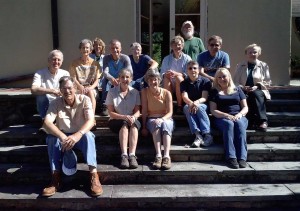 Greetings and welcome to the volunteer page for "The Garden" as I call it. I have just completed my sixth season as a physical presence in keeping The Cross Estate Gardens ready for all of the visitors who come. Working, laboring, toiling are not the appropriate words to express my joy, peace, and contentment as I weed, prune, and assist my fellow volunteers in tasks which help maintain The Garden. I have found and claim it as my space away from all the real toil, work, labor and stress of the everyday world.
When I arrive and walk through the wood gates and into the magnificent pergola with the wisteria and kiwi vines that give a cool comforting embrace to say welcome, I literally have stepped into a world that envelopes me with tasks that sooth the spirit and rest the soul. Every week there is a constant need to weed, deadhead, and dig up, plant, prune, repair, sweep, mow, and rake. Yet one of our hallmarks as a community of working volunteers is to gather for cool refreshment and a treat as we sit on the wooden garden benches grouped so that we can share as a real community events, sorrows, and joys in our lives.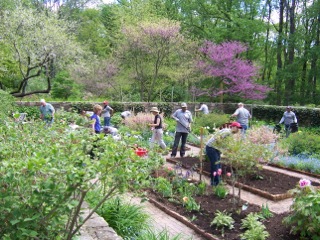 For three hours on each Wednesday morning from April through November, the volunteers seek to focus our attention on the needs and concerns of the walled English garden, native garden, and exterior beds. We make the needs of The Cross Estate Garden more important than our own personal needs. The results are usually more noticeable and tangible than our own issues. Yet, it always seems to carry over into how our own lives are soothed and smoothed by this time in a place that so many people have quietly named "My Secret Garden." Come and join us by e-mailing us your name and phone number so that we may answer some of your initial questions.
Thanks for looking at our site and considering the nudge to join us.
— Stephen Palmer